Flamenca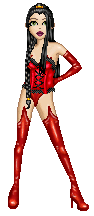 - Dancer of Desire -
Desdemona's Dollmaker
Warning, story hints at X-rated content
Short Summary of Story up til now
Flamenca is 28, tall and slender. She has long black hair and deep brown eyes. She is of Spanish descent and clearly is as fiery as her ancestors were. She loves the flamenco more than anything -excepts maybe sex, both things she does on a very regular basis.
Flamenca travels as a gypsy woman all over the world, stopping each night to make a living as a Flamenco dancer and -which certainly pays more- a lady of ill-virtue. She shares the bed with a different man about every night and loves the freedom of it. She likes to be the one to decide who to let in and her threshold isn't that high (though the writer of this story certainly has issues with that, Flamenca doesn't care).
As a woman of the 21st Century, Flamenca isn't stupid. She makes sure she is always protected from both children (who would ruin her figure) and disease (which would mean... well pain, discomfort and in the worst case: death). All this might make you think of Flamenca as a superficial, egoistic woman. And then you would be right. Flamenca has no intent to delude was she is, she is a surprisingly honest woman when you look at the dance she dances in life. The Flamenco is hot and seducing, but also mysterious, with wide clothes and only a peek at what lies underneath it all.
_-같-같-_-같-같-_
Dragon
Tainth hatched at the Healing Den Naughty Frenzy as a cute and shiny hatchling. She had no doubt which candidate she wanted to bond and instantly went to Flamenca, the dancer of desire. After all, relying solely on her pheromones would be no fun at all. Knowing the moves and being able to flirt would make the game even more enjoyable.

Flamenca's Red-Violet Tainth/Female
Damn: Succubith Sire:Mooith
Her markings are subtle, but the gloss of her parts and the intoxicating scent
they produce (to dragons, and perhaps to draconic creatures too)
show that a rose can be purely beautiful. There are no thorns here... Until you start to itch...
She's an excessively long dragoness, over 40 feet long, it'll take more than a little flirtation
to keep her interest in a male up. Her markings and the strange pheromone
she produces will carry in her offspring.
_-같-같-_-같-같-_
Lantessama Isle - Healing Den