Iced Featheryness
ARRIVAL
A cold wind blew high in the air when Iced Featheryness first laid eyes on Lantessama Isle. It was winter, but Featheryness could see that the lower layers of air got warmer. If this was the place he would be staying, he wouldn't last long.
He started to make a lazy decent into the warmer area. Circling downward he now and then passed another airborn creature. All dragons. Were there any other creatures around? The answer to that question came when he suddenly saw a long serpentine dark creature surface. Interesting. Maybe he should check that out at some point.
Featheryness turned his eyes down again. He touched down and was almost immediately approached by a human.
"Welcome to Lantessama. My name is Olga, I'm here to welcome you." She said.
Her twin braids shifted and bounced when they stepped away from the landing space. "You are free to choose any open cave to live in. We had no idea what you would prefer so we couldn't prepare anything yet."
"High... and cold." Featheryness said, daring to hope that there was such a thing on the isle. He looked at Olga and saw that her eyes reflected someone else... a dragon. She had bonded already. Sad.
"I think you would like the summit best then. It figures, really, That's where our other gryphons is."
"Other?"
"Clouded Feather of the Midnight, though we all just call him Midnight."
"Do you think we'll get along?"
"That's for you to decide." Olga said, "I'll let someone bring a cave in order for you. You are free to explore." Olga nodded.
"Thank you."
"Just remember that the Laedrys wants to speak with you later. At diner time." Olga smiled and left. Featheryness regretted her leaving immediately. Now he was alone again in the big adoption agency. But he didn't need to be...
"Midnight?" he called, flying up to the summit, looking for the other gryphons and hoping they'd be friends.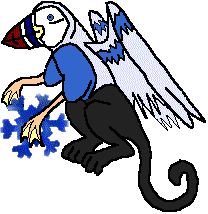 Puffin Gryph
**-**-**-**-**-**-**-**
Name
Iced Featheryness
Gender
Male
Species
Puffin Gryph (can both fly and swim)
Origin
X-mas Exchange
Thoughts
Featheryness is a thinker. Mind, not a great thinker, he has no intentions on getting famous, he just wants to lead a happy life (maybe in a place just a tad bit colder than Lantessama Isle). He has been terribly lonely the past months. He reached adulthood, but since there's only one other male gryphon, which is away most of the time and is about to bond himself too, Featheryness thinks it might be time for him to find his own forever friend.
He is calm, but steady, a reliable friend and really wants to find someone who shares his views on life.
FINDING A WAY TO THE FLURRY
"Quit daydreaming fluffy!" a voice sounded in Featheryness' mind
Featheryness looked around and saw Midnight Feather, the only other gryphon currently residing in the very summit of Lantessama Isle's mountains. Like Midnight, he wasn't at his summit home often. Featheryness loved the more northern IceLand with it's snowy plains, it's icy passes and dazzling cliffs. Featheryness could soar for hours above the desolate landscape and still see new things when he flew back.
"I'm not daydreaming.." Featheryness said, "Hey! Don't call me fluffy!"
"But that's what you are." The more cocky male said. "I swear sometimes I would just want to slap you silly with all your silent pondering."
"So what? I like to think."
"There can be too much of everything." Midnight said.
"Why won't you just go back to your box." Featheryness sighed.
Lately, Featheryness found that his life was lacking. He was looking for something more, and like all things he looked for, Featheryness thought things through first. From the moment he had been born, Featheryness was prone to philosophising, thinking and waiting. He could only make decisions until he was sure they were the right decisions for him to make. But now he wasn't so sure that that was the right way anymore. Maybe he should take a risk to start living.
"That hurt!" Midnight said mocking, it was the first burst of frustration he had ever seen Featheryness have. Of course Featheryness would never understand what the mystery box was, but that didn't mean that the could make fun of it. No, Midnight needed something that would take Featheryness' mind of the mystery box and it's plushie before Featheryness wanted to know more. Taking into account all the thinking the puffin gryph did, he had never even once thought about the fact that the mystery box wasn't big enough to hold a gryphons, a drak and very soon their bonds. Maybe it was the charm of the plushie that kept the secret of what was beyond the box a secret.
"Shouldn't you be panting from the heat?" Midnight countered.
Featheryness sighed again and put his head on his paws. His flippers swayed in the cool breeze. Maybe he could go for a swim later... maybe he would find what he was looking for under water.
"You look down." Midnight said genuinely concerned. Sure he was the toughest of the two gryphs, but he still cared about his friend.
"Just leave me." Featheryness sighed.
"Come on... tell me!" Midnight insisted, "You are...?"
"Lonely." Featheryness said in an impulse.
"Is that your problem?"
"Yes... I guess"
"Then I know the answer."
"What?"
"Bond! Of course." Midnight called out.
"Are you serious?"
"Why else do you think we are here? We bond. It's the natural order of things."
Featheryness let this idea sink in for a moment. Would bonding solve his problem? Where would he bond? Who would he bond?
"I see you like the idea." Midnight said, "I'll leave you... Just let me know where you're going so I can visit."
"I will." Featherness said, "In fact, I think I know already... Ryslen."
Featherness stared dreamily in the distance and this time Midnight knew better then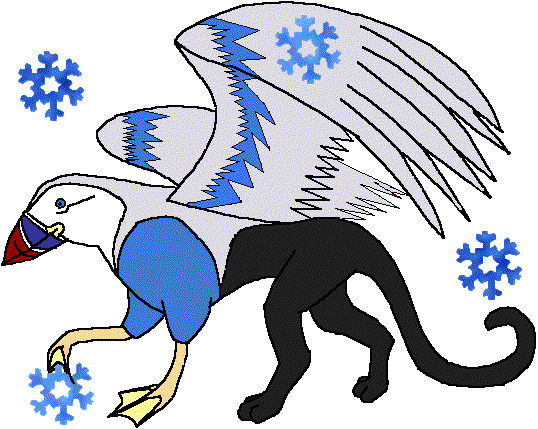 **-**-**-**-**-**-**-**
Lantessama Isle - Ryslen