Ymber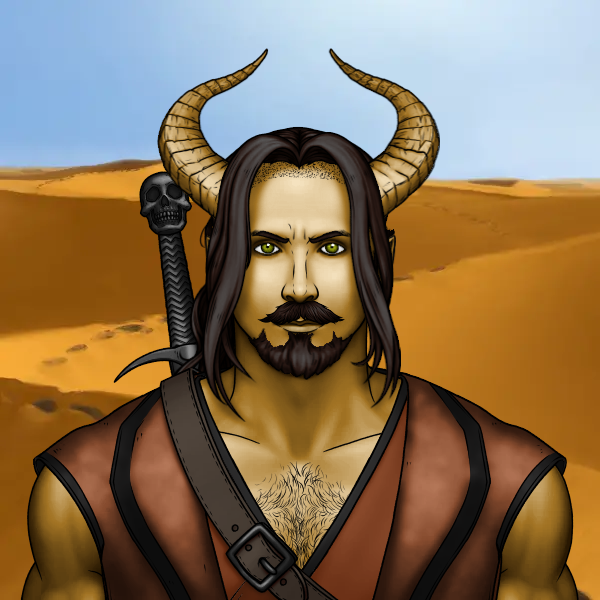 image made with Portrait Workshop
STATS
NAME: Ymber
GENDER: Male
AGE: 33
LOOKS: Ymber is tall and burly with lots of muscles, a bronzed skin and black hair. He has bright green eyes and two curved horns that protrude from his temples. His tail is short and strong. He doesn't fuss with clothing since it usually gets in the way of fighting. He wears the bare minimum to cover himself up.
PERSONALITY: Ymber is a good team-mate and trainer. He is strong, determined and not too full of himself to help others when they're in need. But his own jobs will come first as they should. Ymber enjoys power training, seeing just how far he can go before he has to stop.
SKILLS: Fighting, strategy, training.
LIKES: adrenalin rushes and pushing himself to the max.
DISLIKES: boredom.
FAMILY: younger sister, parents.
PETS: -
'¨~;~¨'¨~;~¨'¨~;~¨'¨~;~¨'¨~;~¨'¨~;~¨'¨~;~¨'
HATCHING
text

image
'¨~;~¨'¨~;~¨'¨~;~¨'¨~;~¨'¨~;~¨'¨~;~¨'¨~;~¨'
ADULT
text

image
'¨~;~¨'¨~;~¨'¨~;~¨'¨~;~¨'¨~;~¨'¨~;~¨'¨~;~¨'
[STORY] - [QUIVREN] [RUENA] [XAFORE] [YMBER]
'¨~;~¨'¨~;~¨'¨~;~¨'¨~;~¨'¨~;~¨'¨~;~¨'¨~;~¨'
Lantessama Isle
Background images found with google long ago.
Fonts used are Lydian and Broadway.