DRAGONS
Draca - Yndra - Guy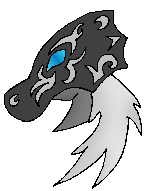 Name
Draca
Age
25
Gender
Female
Line
Draca Line
Looks
Dragon: As a dragon Draca is black with silver-white hair. Her mask is black with silver markings that are unusual since they aren't the same as her human tattoo.
Human: In her human form Draca is tall and pale with short black hair. A tattoo of a dragon runs from it's tail in her neck till it's open mouth around her eye. Her voice sounds like a whisper, but not exactly so. She almost always wears black leather pants and a dark tank top.
Character
Draca doesn't like to hide her nature from the world. That's most likely the reason why she's using her shifter abilities to find dragon candidates. She is rather nice in an older-sister kind of way, but really loves to freak people out with her behaviour.
Family
Draca and her sister Yndra's mother Kathleen is fully human and unaware of what's going on with her daughters. Their father, Zaldoon was found by Draca about 5 years back when she noticed some ...ahum changes and learned about her true nature.
Job
Lantessama Finder
Homeworld
Winlau
Dragon
Horned Flame-Winged Sunset Ryuen (m)
Pets
None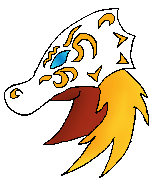 Name
Yndra
Age
20-ish
Gender
Female
Line
Draca Line
Looks
Dragon: As a dragon Yndra is burgundy red with bright golden hair. Her mask is the purest of white with golden markings.
Human: In her human form Yndra is small and slender with a fragile bonestructure. With her red hair and golden eyes is she is rather noticeable on Winlau. Her dragon-half hasn't fully manifested itself yet so her tattoo is still settling, but it will most likely be the pattern seen at the top of the eye on the mask.
Character
Yndra is very sociable. She has many friends and a bright smile. Though she isn't always dependable she does try.
Yndra didn't want to go with her sister who she hadn't seen in over a year, but apparently someone else had other plans.
Family
Draca and her sister Yndra's mother Kathleen is fully human and unaware of what's going on with her daughters. Their father, Zaldoon was found by Draca about 5 years back when she noticed some ...ahum changes and learned about her true nature.
Job
--
Homeworld
Winlau
Dragon
None
Pets
1 rukel named ???

| | |
| --- | --- |
| Name | Guy |
| Age | 21 |
| Gender | Male |
| Looks | Look at the dolly I adopted from Guinevere's Dolls |
| Character | Guy is very quiet and reserved. No-one really knows him. He has little bridges to burn behind him, except maybe the ones leading to his mother and sister. These bridges were hard to burn for him so he hopes he will one day find a way back to his family. |
| Family | Guy's mother Lily has been raising him and his younger sister Anabel ever since their father died in a car accident. |
| Job | Fast Food Restaurant Employee |
| Homeworld | Earth |
| Dragon | None yet |
| Pets | None |